Collection Story – Notes
(1) Clever Fabrication
Among the examples since the song was published:
1) In his compilation, Botkin wrote that Follow the Drinking Gourd was "Closer to the truth, if not the facts" than explanations of other songs such as "Swing Low." (After re-reading this phrase several times, I am still not sure what it means!)
2) Harold Courlander wrote,
"Making due allowance for rearrangements that may have been made in the lyrics since the song was first sung, a careful reading nevertheless gives the impression that the song is not couched in traditional Negro images or vernacular and that the entire effect is literary and contrived.
Harold Courlander, Negro Folk Music, U.S.A., NY, 1963, Columbia University Press, p. 291, n. 4. (Note that he was commenting on the Lee Hays lyrics, not the Parks original.)
3) History professor Michael B. Chesson weighs in on the subject in a somewhat splenetic article on children's textbooks. He writes,
Students may wonder...how a riverbank (with its dense vegetation, fallen trees, and venomous snakes) could be "a very good road"...

...is the notion of a "drinking gourd" song based on fact or is it just a fantasy? With this question in mind, I have consulted four books of musicology: Negro Slave Songs in the United States, by Miles Mark Fisher (1953); The Music of Black Americans: A History, by Eileen Southern (1971); Black Song: The Forge and the Flame, by John Lovell, Jr. (1972); and Sinful Tunes and Spirituals: Black Folk Music to the Civil War, by Dena J. Epstein (1977). I have not found any support for the claim that slaves had a "drinking gourd" song and used it to guide themselves to free territory. (Textbook Letter, Vol. 12, No. 1, September-October 2004, pp. 3 & 12)
Note that the third edition of the book by Eileen Southern, The Music of Black Americans, includes a section about the song, on page 144.
4) Ben Windham wrote about the song in an October 3, 2004 article in the Tuscaloosa News:
...it's irresistible stuff. Except that the whole story is probably a romantic fabrication.

That's the judgment of a new breed of scholars who challenge the authenticity of both the song and Parks' story. And their case is pretty convincing.

For one thing, nobody has turned up documentary evidence of any Peg-Leg Joe. The idea of a Yankee songmeister stomping the rough Tombigbee bottomlands to teach slaves a subversive tune is fairly ludicrous anyway.

Too, Parks claimed he collected the song in North Carolina, Louisville and Texas. Any song with such a widespread propagation, the modern critics say, should have been on the lips of as many rural singers as "John Henry" or "Barbara Allen" and collected widely.

Yet the only place it turns up is in Parks' essay. There's nothing like it in any other vintage folk-song collection or field recording. Nothing even close.
In several email exchanges, Windham seemed very knowledgeable about folk music from his area. I would only note that (1) we have two additional versions of the song, from Lee Hays and Randy Sparks, (2) the lack of documentary evidence for Peg Leg Joe does not rule out the possibility that the song was sung in the field by black Americans and (3) since he declined to either name the "new breed of scholars" he wrote about in his article or share their work, I cannot authenticate his or their assertions.
SOUTHERN LIGHTS: Rewriting the history of the South, Ben Windham, Tuscaloosa News, October 3, 2004. (Archived here.)
Ben Windham wrote about the song again on February 11, 2007 in an enjoyable article here: SOUTHERN LIGHTS: Looking for the truth about the Confederate era.
(2) New England Anti-Slavery Society
Records of the New England Anti-Slavery Society showing Parks's great uncle, Dr. Harris Cowdry. (Emphasis added.)
"Hon. Seth Sprague, chairman of the Committee on nominations, submitted the following Report, which, on motion, was unanimously adopted, and the persons therein named were unanimously elected officers of the Society for the ensuing year."
Francis Jackson, Boston, President.
Vice Presidents
Seth Sprague

Duxbury

Andrew Robeson
New Bedford
Nathaniel B. Borden
Fall River
George T. Davis
Greenfield
Stillman Lothrop
Lexington
Amos Farnsworth
Groton
Samuel J. May
South Scituate
Joseph Southwick
Boston
Adin Ballou
Mendon
J. M. Fisk
Lee
J. T. Everett
Princeton
E. L. Capron
Uxbridge
Jefferson Church
Springfield
Horatio S. Wood
Middleboro
Josiah Gifford
Sandwich
George Bradburn
Nantucket
Sumner Lincoln
Gardner
William B. Earle
Worcester
Samuel May
Leicester
Harris Cowdry
Acton
Nathan Webster
Haverhill
William Adam
Northampton
George Hoyt
Athol
T. P. Locke
Barre
Wm Bassett
Lynn
Corresponding Secretary
William Lloyd Garrison, Boston
Recording Secretary
Henry W. Williams, Boston
Treasurer
Samuel Philbrick, Brookline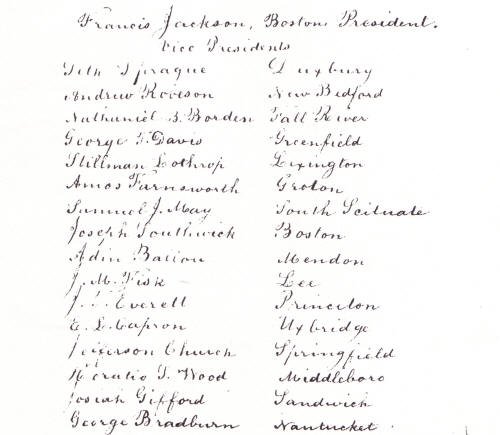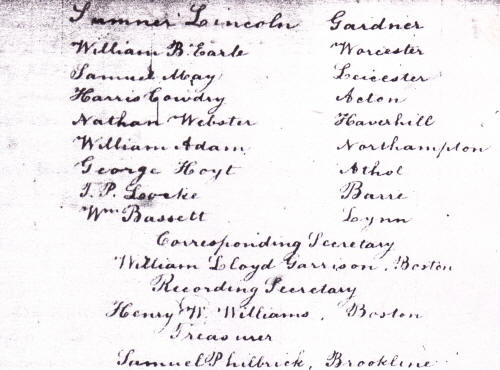 Records of the New England Anti-Slavery Society, Boston, Vol. 2, Thursday, January 27th, 1842, pp. 96 & 97. Courtesy of the Trustees and the Rare Books Department of the Boston Public Library. See also here.
(3) Great-uncle's Genealogy
Parks wrote, "Now my birthplace is in the North and I also belong to a family that took considerable part in the underground railroad movement; so I wrote about this story to the older members of the family in the North. One of my great-uncles, who was connected with the railroad movement, remembered that in the records of the Anti-Slavery Society there was a story of a peg-legged sailor, known as Peg Leg Joe..."
This selection poses an intriguing, and ultimately problematic question: Did Parks indeed have a great-uncle (or possibly another male family member) that could have confirmed the account told in the song? Any such relation could have been born not much later than 1840 in order to have participated in the Underground Railroad before the outbreak of the Civil War. To confirm the account, he would then have to survive until around 1920, a span of 80 years.
Parks' paternal grandfather, Haliburton Parks, was born in North Carolina ca. 1802. His paternal grandmother Jane was born in North Carolina ca. 1809. It's extremely unlikely that brothers of either Haliburton or Jane would have survived to 1920.
Parks' maternal grandfather, Philander Brailey (later Braley), was born in 1812. Philander's brothers were born between 1806 and 1828 and none seem to have survived to 1920. His maternal grandmother, Eliza Cowdry was born ca. 1810 and her brothers died long before 1920: Harris (the Massachusetts abolitionist) in 1875, Jonas in 1877 and Aaron in 1851.
Looking further afield, perhaps Parks used the term "great-uncle" to instead mean another male relation. For example, his great-uncle Ellison Brailey had a son George born ca. 1843. George Braley was 18 when war was declared – old enough to have been involved in the Underground Railroad. He was alive at the time of the 1920 census, aged 77, and living in Parks' home county, Macoupin, Illinois. There could be other candidates as well.
Incidentally, there was a Parks who had an important role the Anti-Slavery movement in Illinois, Lawson A. Parks. Like Haliburton Parks, he was born in North Carolina, also moved to Missouri (where he learned the printing trade), and also moved to Illinois, in his case, to Alton. Lawson Parks had met Elijah P. Lovejoy while in Missouri and Lovejoy also made his home in Alton after leaving Missouri in fear for his life. In August, 1837, Lovejoy signed a petition calling for a meeting to found an Illinois anti-slavery society. Mobs responded by destroying his presses two times. Before his next attempt at publishing, he and his supporters organized an armed band to defend their new printing press. Violence broke out, Lovejoy was killed (the first white murdered due to his abolitionist views) and the press destroyed. Lawson Parks' business partner, Edward Breath, was with Lovejoy during the fatal conflict. The Proceedings of the Ill. Anti-Slavery Convention were printed by Parks and Breath in 1838, no doubt at considerable personal risk.
I have not been able to establish whether Haliburton and Lawson Parks were related.
(4) Mary Austin, EARTH HORIZON
p. 50
It was on evenings like this that Mose Drakeford sang himself across the scene. Mose, in the pre-war period, was the town's sole colored man. Where he came from I never knew, but with his family he lived in a sort of feudal relation to the Burke family, and probably came out of Virginia with them. During the summer it was his custom to cut wood in the Bottoms, which he peddled about. One heard him coming up out of the shadowy region, with its vague menace of the unknown, heralded by his voice, deep and mellow like a French horn, which, it was said, could be heard a mile and a half away - 'Co'd wood, co'd wood!' Between these professional announcements of his passing, he sang for his own entertainment long crooning notes that rang out now and then to trumpet phrases... 'Swing low, sweet chariot'...'Play yo' harp, little David'...'Oh, Lord, how long!' - A voice as black and rich and mysterious as the Black Bottoms themselves
.
p. 51
Somewhere in these night memories there is a thin sliver of memory charged with aching portent... cool wind, black void, and fiery whiteness of the stars; two children taken out on an upper balcony to see the constellation of the drinking-gourd go by... the gourd dipper that hung by the old oaken bucket at the well-sweep repeated in stars against the northern sky — and a high piercing plaint
Foller de drinkin'-gou'd!
Foller de drinkin'-gou'd!
Two or three years ago I found the other end of that tag memory in a volume of Texas folklore. The song itself was a cipher by very simplicity concealed, of the long trail taken by run-away slaves, bearing north by the star pointer of the drinking-gourd, picking up the way marks of creeks and rivers toward the stations of the Underground. Susie would tell the children about that; later there was a house in town where they used to play among closets and passages dedicated to that illegal use. Once Mary had pointed out to her, in the town square of a Saturday afternoon, a limping man who was said to have got his game leg in an effort to stop the transportation of a group of such runaways, but though she often looked for him, she never again succeeded in identifying him. The significance of the drinking-gourd song was probably explained at the time it was heard, but only the feeling of it lingered - the beau geste of the Middlewest, the high romance of succor.
(5) Moses W. Drakeford
Illinois, Deaths and Stillbirths, 1916-1947

Born 04 Apr 1843, Camden, So. Carolina

1870 Census

Home in 1870: Carlinville, Illinois, United States
(Living with a white farm family, the Hubbards)

1880 Census

Occupation Farm Laborer
Marital Status M <Married>
Census Place Carlinville, Macoupin, Illinois

Family History Library Film 1254232
NA Film Number T9-0232
Page Number 99C

US Census, 1900

Residence: Carlinville Township (excl. Carlinville city), Macoupin, Illinois
Father Birthplace: North Carolina
Mother Birthplace: North Carolina

Enumeration District: 005; Sheet Number and Letter: 7A

;

Household ID: 119

;

Reference Number: 35
GSU Film Number: 1240324

;

Image Number: 00000498

US Census, 1910

Name: Moses Darkeford (sic)
Residence: Carlinville, Macoupin, Illinois

Family Number: 79
Page Number: 4

US Census, 1920

Name: Moses Drakford (sic)
Residence: Capital Township, Sangamon, Illinois
Birthplace: Illinois

(sic?)

Film Number: 1820407
Digital Folder Number: 4300582
Image Number: 00274
Sheet Number: 2

Illinois, Deaths and Stillbirths, 1916-1947

Died 02 May 1924 — Springfield, Sangamon, Illinois
Mose [sic] Drakeford buried in Old Ridge Cemetery, Springfield, Sangamon County, Illinois

Plot: Block 24, Sec 3, 14, 25 - Find A Grave Memorial # 57334489